Watch a video on this article instead...
Tips FOR Ranking Nationally Using SEO
Organic traffic is highly important to any website or business, organic being FREE (unless you're paying an SEO consultant for managing your SEO) gives you a fantastic opportunity to grow your business and promote your products and services. There are generally two ways to think about your SEO or Organic traffic, is it Local traffic, from users within your vicinity? Or is it National traffic from throughout the entire country?
With regards to ranking for the two different types of SEO, there are a few different strategies and methods to consider.
Where are your customers?
The first thing to consider is the physical location of your customers, Are you able to offer services and products on a national basis? Or are your customers more localized? Online retailers tend to have a nationwide reach whereas service based businesses usually only offer local services (unless they are a large company, with multiple depots).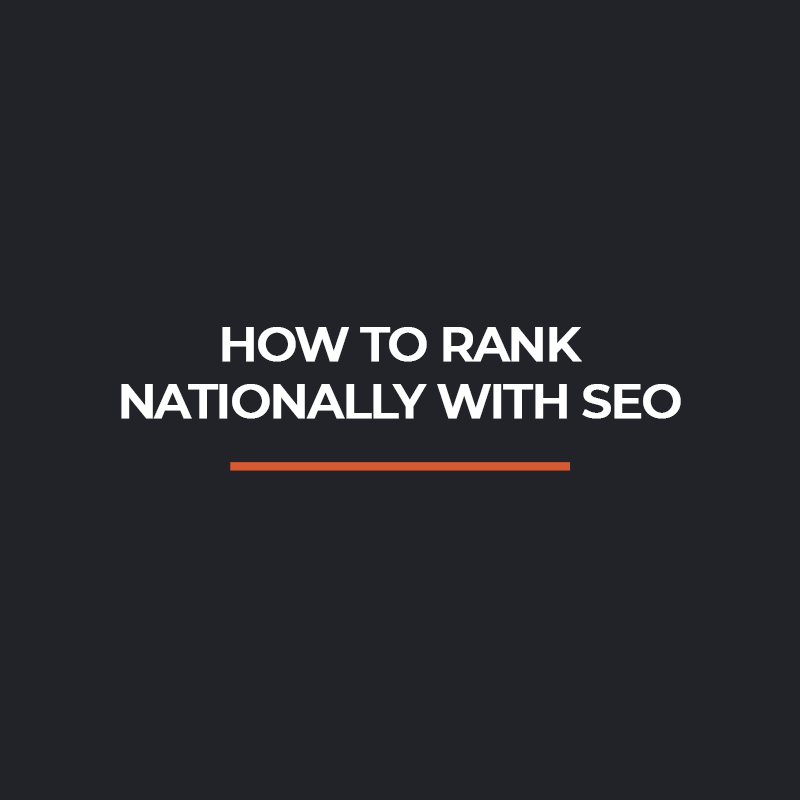 If Your Customers Are Nationwide how do you start?
Starting to attract customers on a national basis with SEO starts in pretty much the same way as if they were local customers, with keyword research.
Keyword research is vital and always the starting point of any successful SEO campaign. Keyword research allows you to understand what your potential customers are searching for in Google. If they are even searching for your services or products nationally.
I wrote a blog post about keyword research here, this will help you get a better understanding of what keyword research is and how to do it correctly.
By identifying keywords that your customers are searching for you can plan your website content and even site structure around these keywords. Be careful to choose "national" keywords rather than their "local" variations.
Examples:
"website designer" (national)
"website designer near me" (local)
"website designer in derby" (local)
Planning Content & Site Structure
Using the data gathered from your keyword research you can begin planning what written content is required to rank nationally with SEO. Keywords should be grouped into themes or topics, these related keywords should be written into your page content, targeting a few words per page.
You should always use words such as "national", "nationwide", "throughout the UK" within your content, this will aid the search engines in determining that you wish to rank nationally with SEO.
Title & Meta Descriptions
Your page <title> is one of the most important elements of your website's coding. These should always contain your primary keyword targets, and slight variations if possible. However, they do have a character limit of 155 – 170 characters (this is the number of characters Google will display for a page title). If you wish to rank on a national basis you should also avoid using a town or city in your <title>.
<title>Website designer in Derby – Andy Morley</title> (Local)
<title>Website Designer – Andy Morley</title> (National)
Page URLs should always use your primary keyword target within them, the URL is a great signal to the search engines as to what you would like to rank for. An SEO friendly URL structure is recommended, here are some examples:
www.andymorley.co.uk/services/ (no keyword targeting)
www.andymorley.co.uk/web-design-services/ (Nationally targeted URL)
www.andymorley.co.uk/web-design-services-derby/ (Locally targeted URL)
These examples should illustrate how to target keywords within the page URL's (slugs in WordPress) in order to target your SEO nationally.
National SEO is Competitive
Due to the number of other potential websites ranking for national keywords, it is seen as much more difficult than Local SEO. The number of results in Google is a good indicator as to how difficult targeting a national keyword can be. In the below example I will show how many sites rank for a national keyword and a local keyword.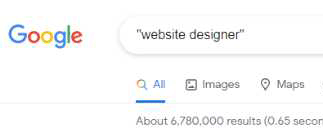 National Keyword – "website designer" – 6,780,000 results in Google.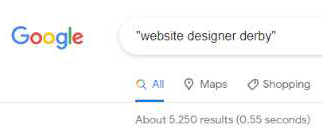 Local Keyword – "website designer derby" – 5,250 results in Google.
As you can see, there is a huge difference in the number of competing websites within Google for these two keywords. The National keyword has nearly 7 million other websites found in Google which is an extremely large amount.
Due to the larger number of competitors for nationally targeted keywords, it is much more difficult to reach page one! A lot more time, money, and effort are required to reach page one for National SEO in comparison to Local SEO.
For this reason, brand new businesses with brand new websites will find it very difficult to rank for competitive keywords straight away, something which a lot of business owners don't consider.
New domains compared to old or "aged" domains tend to not rank as highly, there are many theories as to the reasons why, but here are a few of them.
Google prefers older more established domains that have been registered for longer than 1 year (the minimum amount of time a domain can be registered for). This would indicate that the business is legitimate, whereas a brand new domain could be for a new business that doesn't survive longer than 12 months.
The most accepted theory is that aged domains naturally attract backlinks over time. Older more established domain names are likely to have been used in the past which in turn greatly increases the chances that over their lifetime somebody has linked to them from their website.
Aged domains are seen as an important ranking factor, to the extent that SEO specialists would always try to buy up old domain names that may not have been renewed by their previous owners. This in itself is an entire subject of its own so I will likely write a blog post about it in the future.
These points above lead me onto possibly one of the most important elements of any national SEO campaign, Link building or Link Acquisition.
Link Building for National SEO
Link building has been a hot topic in SEO for many years, some people think that it's not required and links should naturally start to accumulate over time, provided your content is high quality unique, and useful.
My opinion is that Link building is still a vitally important part of any successful SEO campaign, even more so for brand new sites wishing to rank nationally for SEO.
The main reasons are two-fold:
Firstly waiting for your site to attract links naturally over time can be quite a long drawn-out process, this relies heavily on continual content production. This content also needs to be better than everything else on the internet! Most business owners aren't content creators and they would need to invest heavily to produce market-leading content. Difficult even for household brands and the leading companies in the UK, let alone a brand new business with limited time resource and budget.
Secondly, most website owners in the UK won't naturally link out to an "unknown entity" for free, unless you have a lot of time to invest in building a solid brand, growing the awareness of your brand in your sector is also a long drawn-out process.
This is why in my opinion performing SEO for household names is much easier, unfortunately only a small proportion of all the companies in the UK ever become household names.
Building a brand takes decades to reach this status usually.
SEO whether you like it or not still relies heavily on "building" links to clients' websites, these links can take many forms. The easiest method of link building would be to simply add a comment to the bottom of a blog post related to your niche, adding your website address in your comment. Because these are extremely easy to build they are also pretty useless and of little value, Google likes things that take effort!
Another tactic for link building would be business directory listings, the help to legitimize your business, especially if you have a physical building. It is a signal that your business exists. They are also extremely powerful for "Local SEO" as Google can see your directory listing, see your business name, address, postcode, and telephone number and determine where you are located. These are known in the SEO industry as "local citations" and help when trying to rank within a town or city. Google has its own source for local citations, namely Google My Business listings.
Press Releases are another way to grow awareness of your company and website, however, these very rarely result in a link back from the media sites, arguably they are of little value to actual SEO link building. They usually require payment before they are published as well.
The more modern equivalent of press releases and often quite controversial is "Guest posting". With guest posting, you identify related industry blog or article websites and reach out to their owner/webmaster to discuss placing content on their blog which links back to yours. 
Bloggers will usually charge a fee for posting your content, quite often these bloggers run their blogs as a business and would be unlikely to do anything for free.
Guest posting is highly effective and a great way to build links to your site if done correctly and carefully. With that said, you need to understand how links affect your website rankings as bad backlinks can actually harm your SEO and even invite Google to penalize your website for trying to exploit backlinks. If you choose to post on a site that is low quality or has a bad history (remember the aged domains I discussed previously) you may be doing more harm than good for your SEO.
Thank you for taking the time to read my post about ranking nationally with SEO. I hope it has been useful to you and I would encourage you to share this post across your social media profiles, blogs, and website.
If you enjoy my content please consider following me on Twitter, Facebook, or LinkedIn. And of course, if you have any questions or requests for future posts please contact me through the contact page of my website.