Here are my tips on SEO Content Writing
Last year was pretty rubbish all around thanks to Covid-19! It may not have been a great year for you in terms of managing your website and producing SEO content with the numerous Zoom meetings and adjusting to the home environment, kids, and pets interrupting as soon as you get stuck into a task!
This year, things are starting to look up with the vaccine rollout and the glimmer of light at the end of the tunnel with the hope of a return to some sort of "normality". This post will give you some ideas of how I prepare to write content for myself and my clients, it will help you get ready to write your content for SEO.
The primary factor when writing content for SEO is the audience. Therefore, if you want to effectively write SEO content and immediately start seeing a real return on investment, you have to find ways to make sure that you produce content that benefits them.
When you produce great SEO content, it can help your web pages to rank highly, drive more traffic and generate more leads. Therefore, everything you do will be audience-based and that will be the gist of this post. Keep reading to learn more.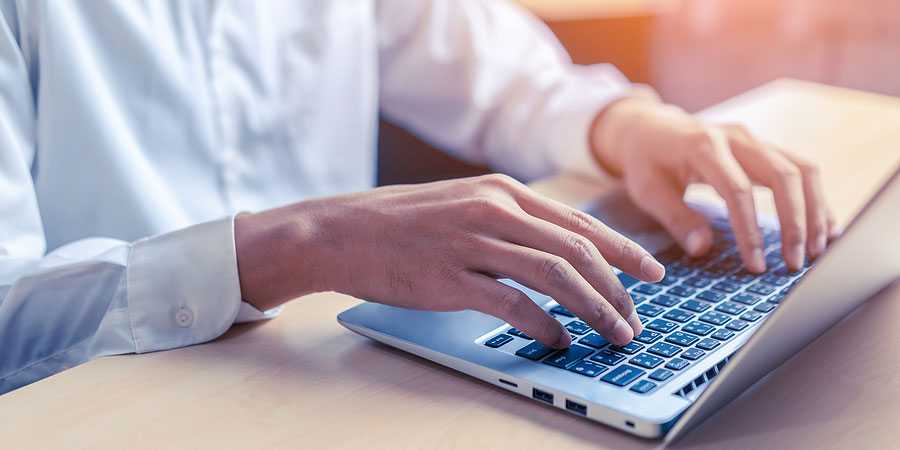 Before we get stuck in, A Word About Unique Content
Before I get into the meaty substance of this post I wanted to briefly mention "unique content". The content you write for any of your website pages whether that is a service page, product description, or blog post, it should be freshly written and "unique" to your website. The reason is Google in the past has applied ranking penalties for websites that have been seen to directly copy and paste chunks of the written content found elsewhere on the internet. It is seen as "duplicate" content and you are in effect plagiarising somebody else writing.
Nobody likes a copycat, especially not Google, and if you copy and paste the content you run the risk of your website being penalized, rankings dropping, and traffic vanishing, overnight…
Finding a Topic and Researching Keywords
Your topic will play a vital role in putting your content out there. Therefore, before anything else, you need to research and find a topic with traffic potential. In this case, traffic potential only means that you find a topic that can easily attract readers.
For you to get the most out of your SEO content writing, two strategies I would like to mention are: First, find relatively broad topics that your audience may be searching for as these tend to have higher search volumes than more obscure topics. However, these broader subjects may be too competitive to achieve rankings this is where a "longtail" strategy may be more effective. Secondly, a "longtail" strategy where you are purposefully identifying lesser-used keywords or more obscure subjects as they tend to be less competitive in terms of the number of other articles Google has in its index, in turn, gives you a higher probability that your content will appear on page 1 of Google.
After this, the next step would be to search for metrics that will help you know how best to get the most from your topics. You can find such metrics from services like:
1. Google Search Console, The Performance Reports "Search Queries Report"
The Google Search Console tool is FREE and its "Performance Reports" are extremely useful in helping to understand how people are interacting with your website. The "search query report" was designed to help website owners understand which search queries their website is already showing up for, this is awesome information for an SEO consultant as you can also see the "average position" in the search engine results in a particular piece of content appears, as well as an average position in the results. If you identify a search query that is not yet being targeted on any particular page on the website you can write a fresh piece of content centered around that particular search term, the theory being that it will push your site up the rankings for that given term.
This is my favorite method as the website is already ranking for the search terms you find, you are simply improving the SEO for those and the result is usually higher rankings and traffic.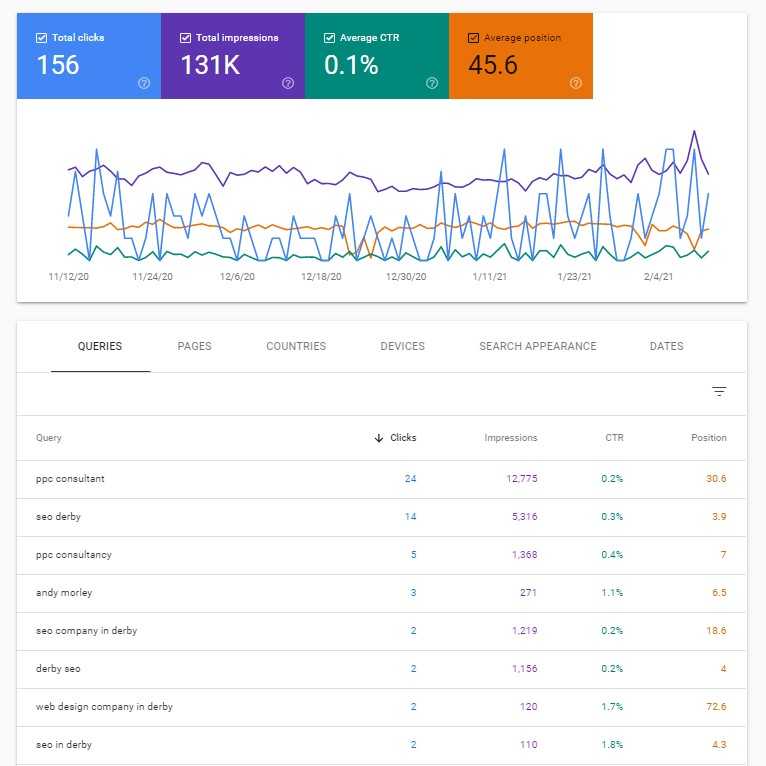 Answer the Public is an incredible tool for collating, tracking, and alerting you to some of the most important questions being asked on Google. Therefore, it is an ideal way of getting more insights into what people are asking, which helps you better understand the best SEO content writing topics and the best keywords to use to reach your customers.
When using this tool, you will save yourself a lot of time researching related keywords manually. This is because it will help you easily spot any gaps in the existing content and optimize it to answer your audience's questions.
As tomorrow is the dreaded Valentines Day here in the UK I have used that as an example (click to enlarge):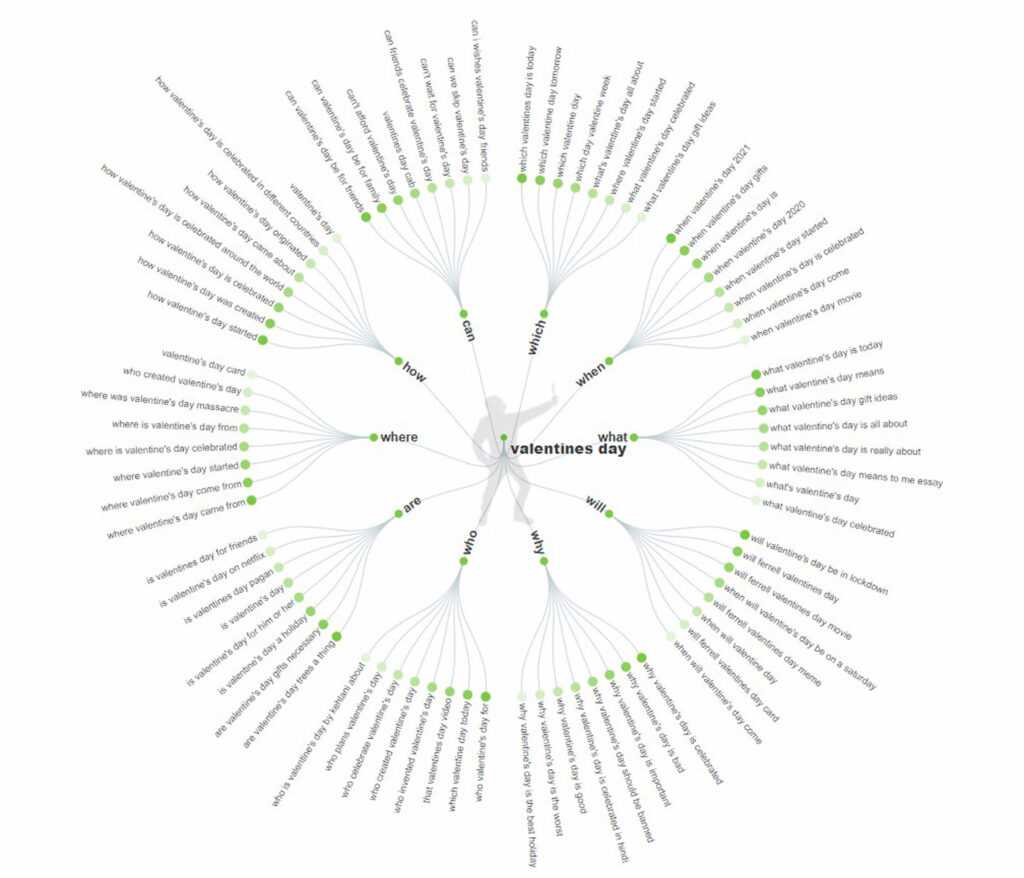 There is a limit to how many searches you can perform each day with the FREE version of the tool, limited to 3 searches. However, there is a paid version that has these limitations removed and allows you to do more with the data (you could use a VPN however to get more FREE searches if you are a cheapskate). Once you have found the keyword information you require Answer The Public allows you to export these to a CSV file.
3. Google's Suggested Keywords
This is yet another awesome tool to help you research keywords for your topics. When you enter your preferred topic, Google will display a list of other commonly searched terms which are related and try and find the best-matched search queries for your topic. In most cases, it will give you three to five suggestions, but sometimes you can even get up to 10.
Since it is fast and convenient, it will significantly speed up your search process, making your content writing experience even better.
There is also another tool that uses the Google data called the Google Suggest Scraper, I have found this to be useful.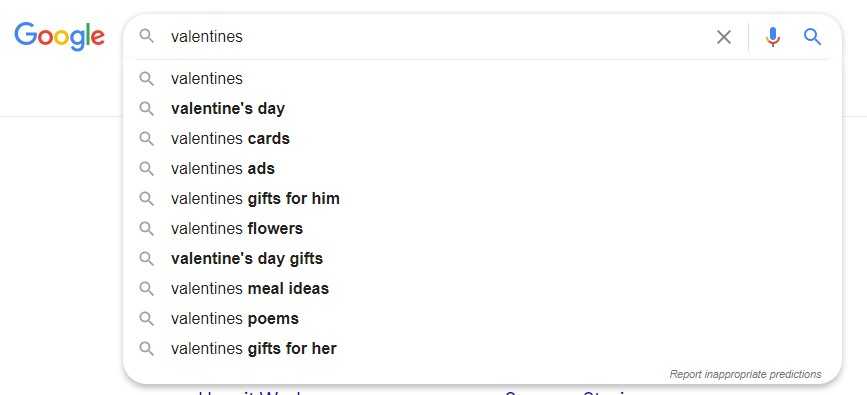 4. Google Ads & The Keyword Planner
If you are running a Google Ads campaign (or somebody is managing one for you) you may have a pot of gold full of real-world Google Keyword data. You can analyze your Ads campaigns to determine what people are searching, if you are running Geographical Google Ads you can even determine what people are searching locally to you!
By looking at the keywords users are searching in Google Ads you can begin to plan new content, or expand upon existing content on your website.
The example below (click to enlarge):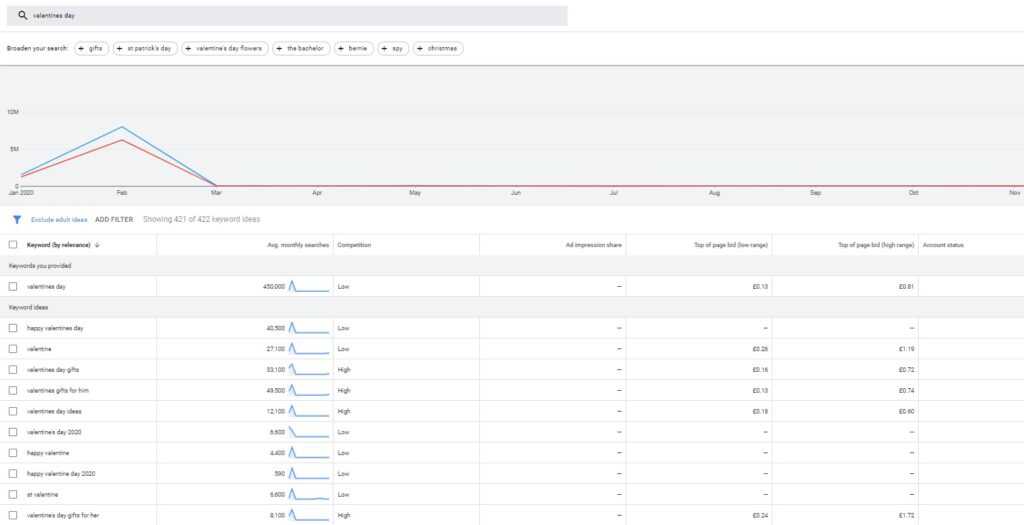 Including Synonyms or LSI Keywords of main keyword targets and why
Writing effective content can be tricky, it needs to engage the site user and keep their interest for it to perform the task you require (depending on search intent). Optimizing SEO content is a mixture of using the right amount of keywords in the right places, correct spelling, and perfect grammar, and also more importantly compelling enough to keep the reader interested.
Many website owners who struggle with content writing end up stuffing keywords into their pages in an attempt to achieve ranking positions, this usually results in making it harder to read and unnatural. This can be avoided by understanding how synonyms of keywords are used to help the search engines.
To help produce higher quality content you must be including synonyms or LSI keywords of the main keyword targets within the written copy.
What Are LSI Keywords?
LSI (Latent Semantic Indexing) Keywords are contextually related terms that the search engines like Google use to thoroughly understand the content on a website. By including these it helps to give Google context and improve the "topical relevance" of your words, which is vital.
Here are the main reasons why you should include more synonyms / LSI Keywords:
Helps to improve your credibility
Improves your content's readability
Helps you avoid keyword stuffing
Helps the search engines understand the "topic" of your page
Helps you to target "long-tail keywords"
Whilst you are planning your content and performing keyword research you also need to keep in mind the "search intent" of these keywords. Why are people searching for a particular topic? What is their intended action? How can you write a piece of content to facilitate their need?
Google ranks pages to fit not only the search term but also the intent behind that query. Therefore, you should write your content to fit the search intent of potential customers. Three of the most common types of search intent are:
Informational Searches: Essentially, these are searches by people looking to get information on a particular topic, which constitutes a larger percentage of the searches. Google understands intent and it will provide information depending on the search query. For instance, a user searching "What is SEO?" is potentially looking to understand more about a specific subject and you should plan your content so that it best answers this intent.
Buying Intent: These are searches relating to a buying decision or using the internet as a tool for researching what to buy. For instance, "SEO Consultants near me", in this instance the user could be looking for a Search Engine Optimisation specialist close to them for them to work together to improve their website and their SEO.
Navigational Intent: This is generally people who are looking to find a physical place, a bricks, and mortar building, "where is Google UK Hq?" (it's
Things to Consider When Structuring Your Content
You may have the best content idea, but how you structure it can have a great impact on whether or not people read it and engage with it, whether it actually "works". The chances that poorly structured and poorly written content getting the exposure you need is quite slim, especially if you consider the amount of information already published online.
Here are some important points you should consider when creating content for your website.
Why are you writing? What is the reason you have decided to write a particular piece of content, are you answering a user's question? Are you trying to sell a service? Understanding this is vital in creating a great piece of content.
Search intent: Following your keyword research, does your content match the "search intent" of those keywords?
Tone of voice: Understanding the audience for a particular piece of content will help you to determine the correct tone of voice to use, informal/formal, etc…
Word Count: Google loves long-form content, however, human readers may not feel the same, everyone is different. The number of words in a sentence, how long your paragraphs are and the entire length of your content are all factors you should consider. Keep your sentences short and succinct, paragraphs should have about four lines for better readability.
Breaking topics into subtopics: Try and break your topic into subtopics to keep the readers engaged without getting bored.
Use Headings: When you break down your topics into subtopics, remember to use the H2 and H3 HTML tags to reflect the hierarchy of your content.
Summarise: Although Google prefers long-form content, most users tend to be "skim readers". Therefore, it is also a good idea for you to include a summary with quick takeaways in your conclusion.
As an SEO content creator, knowing what your audience needs will help you to create effective content. It is important that you fully research what people are searching for in the search engines. Performing keyword research before writing will help you to determine the reasons why a particular piece of content should be written.
Search intent is key to writing a successful piece of content and writing a piece to match the user's intent is vital. Including keywords and synonyms of your keywords within the content not only helps the search engines to identify the "topic" and "relevance" of your writing but also makes it easier to read and flow more naturally to the reader.
Structuring your content correctly helps cater to different readers, those who prefer to skim read should be able to get the core information from headings and bullet points. Google and the other search engines seem to prefer "long-form" content, and SEO industry studies have shown that longer pieces tend to appear on the first page of Google more often than shorter pieces.
Finally, don't be a "copy cat", having unique content written only for your website is vital. Google in the past has been known to penalise websites that copy and paste content from sources elsewhere on the internet. Duplicate content is an SEO killer!