By now the Google mobile update which has been dubbed "Mobilegeddon" should be well and truly being rolled out… or is it? I tweeted out this morning to see if anybody was reporting changes in the mobile rankings, but nobody came back to me, not one person!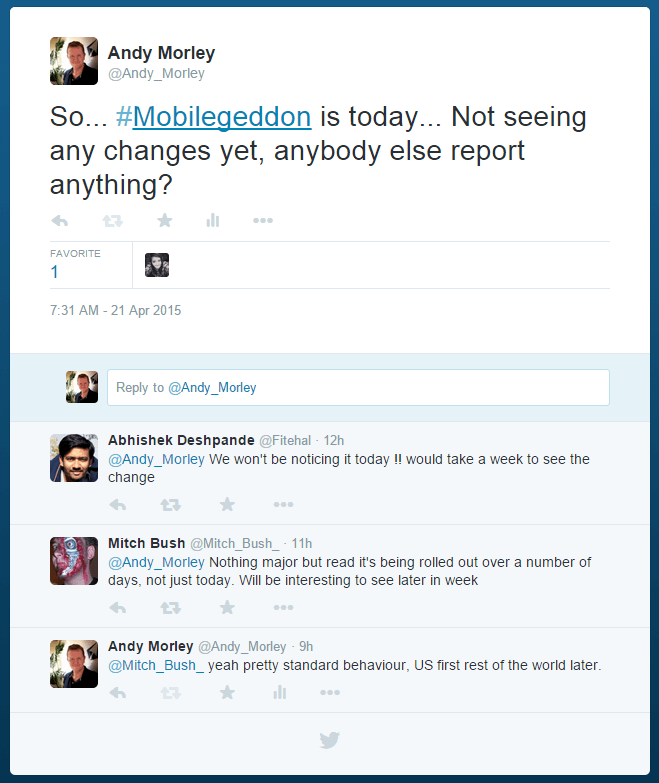 As you can see, the general feeling is that it will take a few days to roll out, rather like the other Google updates of the past. I have always seen that they usually start in the US then slowly filter over to the UK and Europe over a period of a few days. I am certainly not seeing anything in regards to rankings shifts for my clients.
So What Is This #Mobilegeddon Anyway?
"Mobilegeddon" is the name given to the mobile search update which is being rolled out by Google today (21st April 2015). They are apparently going to be rewarding websites which are "mobile friendly" judged by Google's own "mobile friendly test" tool, example below.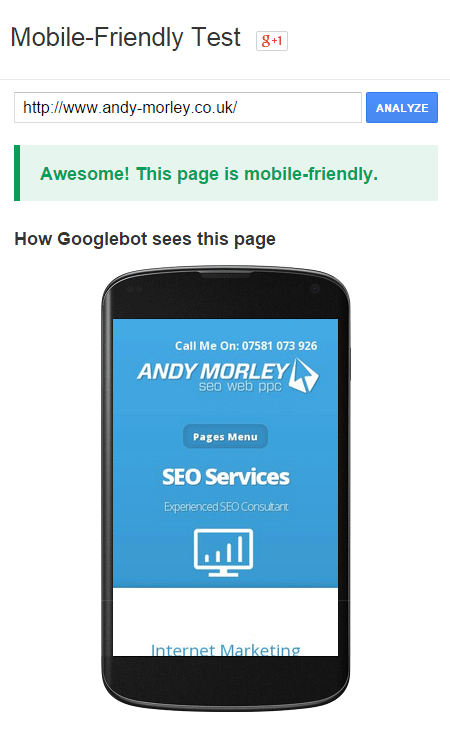 Why Should You Be Concerned?
If you value your mobile website traffic then you should be concerned if your site doesn't pass the mobile friendly test above. Mobile traffic is growing each year, smart phones and tablets are growing in popularity and are looking like taking a huge chunk of search traffic away from desktop machines in the coming years. Google have known this for years and have been banging the drum for developing a "mobile friendly" website through out that time.
For certain businesses it is vital that their websites works on a mobile, a few examples would be:
Restaurants
Taxi companies
Take aways
Emergency locksmiths
etc…
If you want to find out how this will effect your business, a quick way would be to take a look at the percentage of mobile traffic in Google Analytics.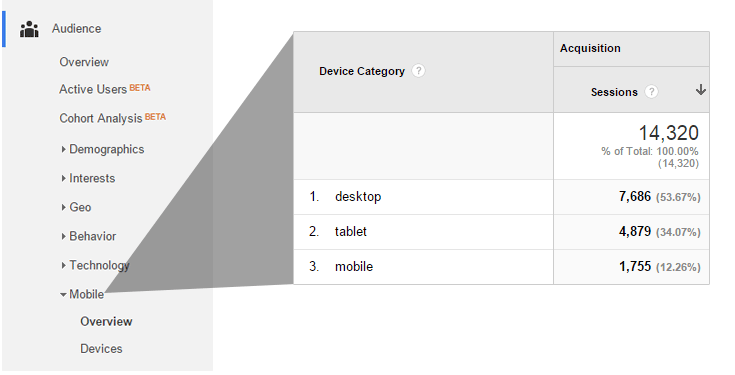 As you see from this, mobile devices make up 12.26% of this particular client's web traffic, tablet's account for a further 34.07%…. A whopping total of 46.33% !!! This shows that a huge proportion of the traffic hitting the site is potentially going to be effected by this update. For this business it is vital that they are prepared for #Mobilegeddon.
What Should You Do?
My advice to website owners would be, first to determine what impact this update could have, analyse the mobile traffic to your own website(s). Run your sites through the mobile friendly testing tool, and fix any issues which are discovered. If you can't fix them yourself, make sure your find a reputable person / company who can do this work for you.
Thanks for reading.
Andy.